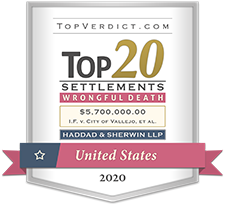 The City of Vallejo agreed to pay $5.7 million to avoid trial against the children and parents of Ronell Foster, who was shot and killed by Vallejo Officer Ryan McMahon in 2018.  Officer McMahon was stopping Ronell for a bicycle infraction, and says he only intended to give him a warning.  When Ronell rode away on his bike, McMahon pursued him in his police car, then chased him down on foot.  McMahon tried to tase Ronell, then pushed him down a flight of stairs.  Ronell, who was unarmed and was not fighting back, kept asking McMahon why he was after him.  After Officer McMahon tased him a few more times and beat Ronell with his heavy metal flashlight, Ronell was able to catch the flashlight as it came down towards him.  As he tried to turn away from McMahon while getting off the ground, McMahon shot him seven times, almost every shot to Ronell's back.  Ronell died at the scene.  Officer McMahon's body camera video confirmed these events.
Later, it was reported that Officer McMahon was one of a club of officers in the Vallejo Police Department that would bend a tip of their badges when they killed a person.  Reportedly, the killing of Ronell resulted in Officer McMahon's first bent badge tip.  The Vallejo Police Department reportedly is trying to fire Officer McMahon now.  To date, the Vallejo Police Department has not disciplined any officer in connection with the "bent badges" club.
The settlement money will mostly be split between Ronell's two young children.
Related Articles:
Vallejo Settles Suit for Fatal Officer-Involved Shooting of Ronell Foster for $5.7 Million
Vallejo's $5.7 Million Settlement Fails to Bring Justice, Peace or Closure