Wrongful Death Attorney in California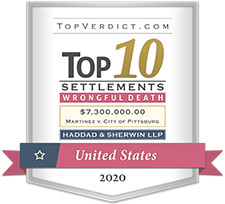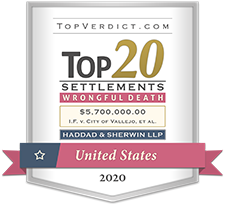 Wrongful death cases, involving loss of life, are among the most tragic and important cases. These cases can also be legally complicated and difficult. Only limited categories of relatives are allowed to bring a wrongful death case for the loss of a loved one. Very often, time is of the essence in order to preserve your rights when a loved one dies. The wrongful death attorneys at Haddad & Sherwin LLP have the knowledge, skill, and experience to successfully handle many types of wrongful death cases. Contact us if you or someone you love has lost a family member in questionable circumstances.
Our wrongful death cases arise from police shootings, restraint asphyxia, police tactics and force, jail beatings, jail suicides, and jail medical care.
We have won many wrongful death cases for children, spouses, and parents of sons and daughters killed by police, security guards, jails, and jail medical providers.  We have uncovered cover-ups of suspicious deaths, bringing closure, compensation, and justice for families. We know how to uncover the truth to protect and prevent others from suffering tragic wrongful death.
Do you need a Wrongful Death Attorney in Oakland, CA?
Contact us  today to get a free consultation with an experienced, Oakland-based wrongful death attorney.  We handle cases throughout California, including the Bay Area, San Francisco, Oakland, San Jose, North Coast, Central Coast, Central Valley, and more!