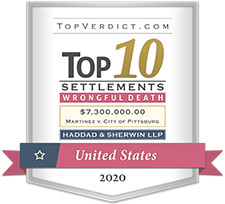 This local case involved Pittsburg police officers' use of a carotid hold and choke hold, and other highly injurious force, on video, while Beto Martinez can be heard saying, "I can't breathe!" much like the more publicized cases of George Floyd and Eric Garner.
On the afternoon of July 26, 2016, City of Pittsburg, California, police officers Ernest Mejia, Willie Glasper, and Jason Waite initiated a traffic stop of Humberto Martinez's car for having an expired registration, a minor traffic infraction.  Instead of pulling over, Mr. Martinez led the officers on a brief vehicle pursuit of about 200 yards, circling around the block back to his friend's house, where officers had previously seen him, then ran inside through the half-opened garage.
The officers chased after this fleeing misdemeanant into the kitchen, where Officers Mejia and Glasper tackled Martinez to the floor.  Moments later, Officer Waite, and soon thereafter, Officers Gabriel Palma, Patrick Berhan, and Jonathan Elmore joined Officers Mejia and Glasper in the kitchen.
In the sequence of events that occurred, as the six officers' body-camera videos confirm – and both the federal district court and the Ninth Circuit Court of Appeals found under the facts most favorable to the Plaintiffs – each officer was directly involved in the brutal, deadly beating of Mr. Martinez, including use of choke holds and other restraints while punching, kicking, tasing, stomping, and striking Mr. Martinez, and using other restraint methods known to cause compression asphyxia (including placing body weight on Mr. Martinez's neck and back while he was prone and restrained, with multiple broken ribs), collectively causing his death.
On officers' videos, Mr. Martinez can be heard saying, "I can't breathe!" multiple times as Officer Mejia choked him and others beat him.
Mr. Martinez was unarmed, never struck the officers, nor threatened anyone during the struggle, and had not committed a serious crime to justify the use of high levels of combined force that proved to be deadly.
 Mr. Martinez's autopsy revealed very severe injuries, including hemorrhages in the neck, fractured thyroid cartilage ("Adam's Apple"), sixteen fractured ribs, "flail chest" due to multiple rib fractures (an often deadly condition usually seen only from high-speed car accidents), a fractured sternum, and bruises to his liver and both lungs.  The official pathologist concluded that the cause of death was secondary to probable mechanical obstruction of respiration complicated by carotid sinus reflex stimulation due to the "carotid choke hold."
In June, 2020, the Ninth Circuit Court of Appeals cleared the way for this case to go to trial.
In addition to agreeing to pay Beto's children $7.3 million to avoid a jury trial, the police department agreed to reforms, including (1) that they have banned officers' use of the choke or carotid hold; (2) that they will train their officers about the dangers of prone restraint causing asphyxia in some people.
Beto's only son, Humberto ("Berto") Martinez, Jr., says, "I was 14 when my Dad was killed.  I was getting older and needed a father figure.  The police should be the people you go to when you feel unsafe.  It was unreal that they treated my Dad like that."  He adds, "This settlement says 'Don't Lose Hope.'"
RELATED ARTICLES:
"Pittsburg police agree to $7.3 million settlement with family of man killed by officer's 50-second carotid hold"